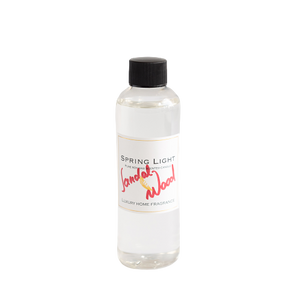 Fragrance Diffuser Refills
Regular price €35.00 Sale
13 beautiful fragrances for diffusers.  
Product Details
Premium quality essential and fragrance oils 
200 ml plastic bottle
Fragrance lasts 3 - 4 months in a diffuser, depends on fragrance and usage
Dimensions: 4,5 cm (1,77") diameter x 15 cm (5,9") height
Weight: 200 g (7,05 oz)
Packaging
Each Refill Bottle is packed in a cardboard box. 
Fragrance by your choice
Oriental Mood - Woody Spicy - soft and pleasant scent of exotic woods harmonizes with citruses and warm, bitter spices such as pepper, cloves and cinnamon.
Wildflower - Green Floral- green notes of grass and leaves introduce freshness and tartness in a floral composition, and leave an impression of freshly picked flowers.
Sandal Dream - Woody -warm, mysterious sandalwood, drier and sharper cedar and vetiver accompanied with aromatic and citrusy notes.
Velvet Touch - Woody Floral Musk - dominant wood in a heart of compositions has a beautiful opening with flowers such as violet, lily of the valley and freesia.
Mountain Air - Balmy, woody and herbal Clary Sage, powdery-sweet effect with intensive warm and gourmand character of Tonka Bean, Cedarwood and Musk.
Leather and Smoke - Rich and saturated leathery notes enhanced by sandalwood and ciste in a heart of composition; an elegant touch of vanilla and pachouli as bottom notes.
Amber - Bonfire deep in the Forest. Aromatic notes such as Clary Sage, Birch, Pine and Gaiacwood, Woods, Pachouli and Moss.
Rose Garden - Fantastic warm and woody scent, while at the same time being both floral and fruity. 
Forest -

Fragrance has a fresh, citrus-aromatic start, composed of notes of

lemon, basil

and elegant touch af

tarragon

. Calming l

avender

and

French sage

in its heart. In the base, green leafs are supported by

cedar

and touche of

patchouli

.

Cashmere - Warm and soft fragrance. Combines jasmine, bergamot, sandalwood, amber and musk.
Peony - From sweet and rosy to citrusy and spicy. Fresh and uplifting. Sensual and evocative.
Sandal Wood - Warm, deep and woody scent.  Exotic, rich and distinctive soft. For calming and focusing the mind.
Jasmine - Incredibly sensual, rich and sweet. Exotic, intense and evocative. With its sweet scent, it is a fragrance favourite for centuries.
Shipping